ONE NIGHT ONLY!
Live and In-Person!
Saturday 2/3.
FLOCK TV!

Celebrate community and support an exceptional Lincoln experience for ALL. All parents, guardians, alum and adult friends welcome.

4-6 PM Pre-Funk: Join us for drinks at the neighborhood watering holes by class or pick a spot (Freshmen: Cheerful Bullpen, Sophomores: Kingston, Juniors: Leaky Roof, Seniors & Alums: Goose Hollow). First 50 drinks on the house at each location made available by a generous sponsor!

5:30 PM Festival Fun, Food + Libations: Enter through the patio into the Lincoln Commons that will be transformed into a festival of music, merch food, fun and zero-proof libations - a warm-up to the Main Stage event.

7:00 PM Main Stage Event: From Ravi Shankar to Sly and the Family Stone…100+ Lincoln students and teachers have put together a LIVE Main Stage event in Lincoln's Theater you won't want to miss. Band, dance team, film, drama, choir, and more.

8:30 PM Afterparty: Surprise location will be announced at the end of the show.

PLUS! Online auction 1/27 – 2/5.

---
Get your pre-funk on with other parents, guardians, alum and friends!
Saturday, Feb 4 @ 4-6 PM, these good neighbors will be ready to warm you up for Rock the Flock fun to come.

The first 50 "Rock the Flock Drink Specials" at each location will be on the house, one per person, for ticket holders.

Afterward, make your way to Lincoln for festival vibes, food, and zero-degree libations from 5:30-7 PM followed by the 7 PM Main Stage event in the theater.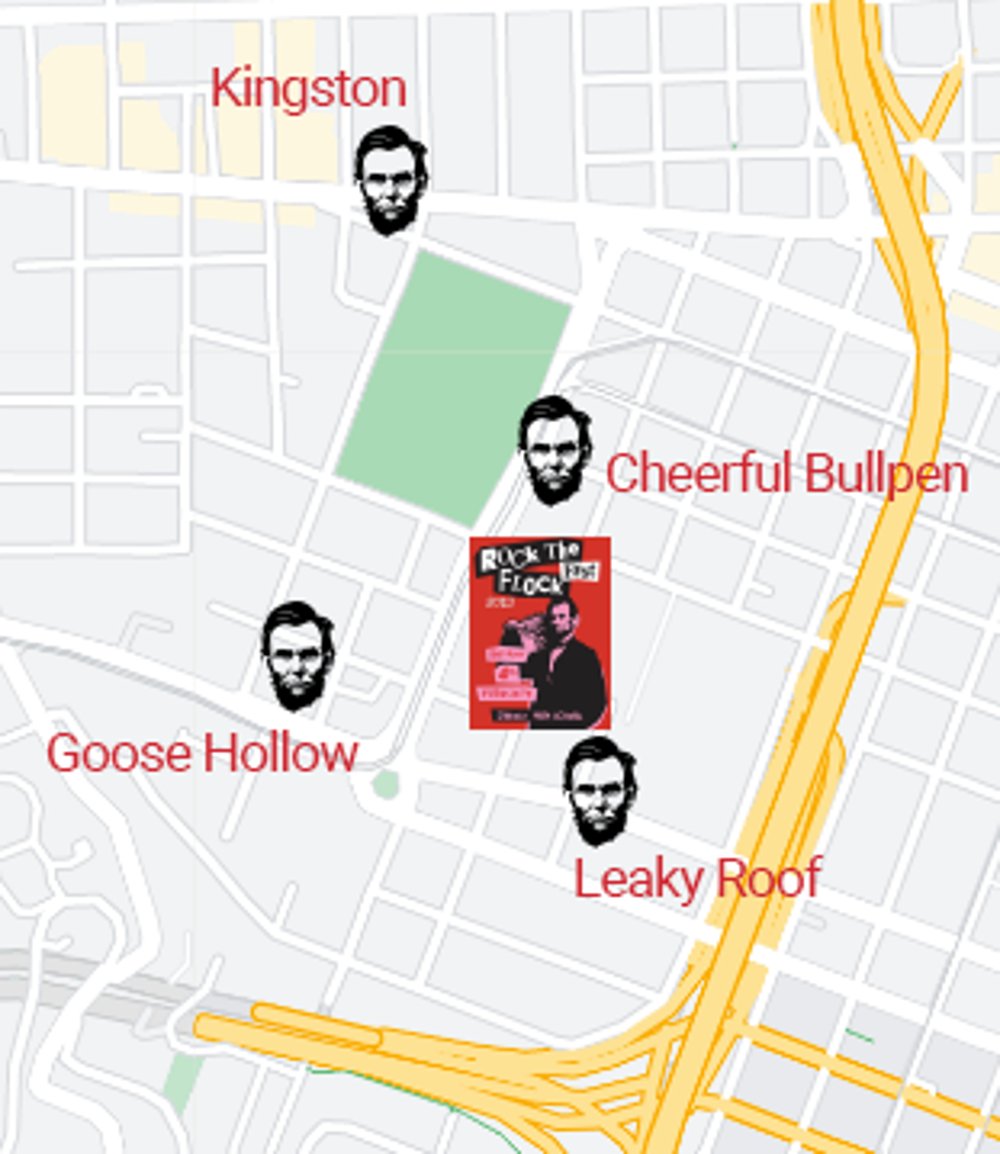 Gather your friends and pick a spot or flock together by class!
Cheerful Bullpen (Freshmen)
Sports bar with screens in every booth at 1730 SW Taylor Street.
Kingston (Sophomores)
Sports pub with a popular happy hour at 2021 SW Morrison Street.
Leaky Roof (Juniors)
Intimate cocktail spot with global fare at 1538 SW Jefferson Street.
Goose Hollow (Seniors & Alums)
Storied tavern serving pub classics at 1927 SW Jefferson Street.
Q: What should I wear?
A. Anything goes. Your ROCK THE FLOCK looks can be as simple as your favorite jeans and concert t. Bring the rhythm and soul, emo tears, far-out funky, country or punk rock . . . whatever you choose, be ready to rock! Or swing in for some merch from the Lincoln Cardinal Store.
Merch available daily! at lunchtime in the Lincoln Cardinal Store beginning 1/30.
$10 SPECIAL Sex Pistols t + $20 Signature Truckers + $20 LE Bowie t + $5 Signature Patch